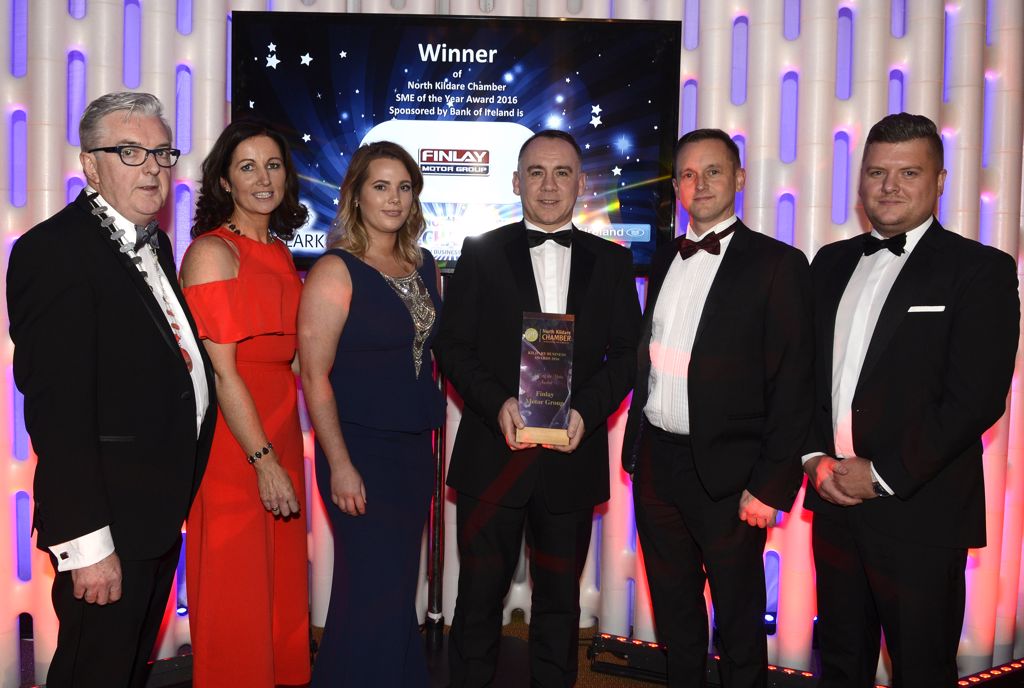 Two Awards at North Kildare Chamber Awards
The North Kildare Chamber Business awards 2016 took place in the K Club on Friday 18th November. The awards are county wide awards recognising Entrepreneurship, innovation, diversity and talent of businesses across all sectors. Finlay's were especially excited for the award ceremony this year as Finlay Motor Group was nominated for two of the awards at this year's ceremony. The awards Finlay Motor Group was nominated for were 'Retail Excellence' & 'SME of the Year'. All at Finlay's had high hopes for at least one of the two nominated awards but knew that the competition was high.

The anticipation and nerves were very high when the winner of the first of the two awards we were nominated for was being announced. This award was for 'Retail excellence' and we were up against two great businesses. Unfortunately we did not win this award on this occasion but were delighted for Sheehy Motors who won.

The second award announcement came around pretty quickly and yet again the nerves were high. This award was for 'SME of the Year' and again the level of competition was high. After all nominees were called out it was 'Finlay Motor Group' who topped this group to win the title of 'SME of the Year 2016' and we were all ecstatic.

Spirits were high and we were all very proud to be able to bring the new award into Finlay Motor Group on Monday and add it to our ever growing awards collection.

There were two final awards on the night which were judges pick from all of the nominees throughout the night. The awards were 'North Kildare Chamber Overall Business of the year Award' & 'North Kildare Chamber Outstanding Contribution to Business Annual Award'. Kerry Group deservingly scooped the Outstanding Contribution to Business award. The Overall business of the year award was awarded to ourselves. When the name was announced a mixture of shock and absolute delight raced to everyone. To be recognised with such successful businesses is an absolute honour to us.

Finlay's will be proudly displaying both awards for all to see in the showrooms here in Naas. Congratulations to all businesses who were nominated and winners on the night & thanks to North Kildare Chambers for throwing such a successful event for another year.
News